Animal Success Stories
As an all volunteer foster-based rescue group, successful adoption stories are the only compensation we seek! Our Foster Caretakers, who spend weeks or months loving the animals in their care, always want to know how their "babies" are doing once they have found their forever homes. We hope that the adoption of a pet is not the end of a process but the beginning of a relationship between A Second Chance Puppies and Kittens Rescue and our adoptive families. If you've adopted a dog or cat from us, please share your story! Success Stories and pictures can be sent to adoptions@asecondchancerescue.org.
Click a letter to find an animal or
view all
.
Wilbur
My name is Hope and my family and I adopted Wilbur in March at the Pet Expo at the South Florida Fairgrounds.  Wilbur has been a wonderful addition to our family.  We already had a puppy and he has become an excellent playmate for her as she is for him. 
He loves treats and body rubs.  He is the calm one of our two puppies; Wilbur likes just laying around.  When I call him my "Big Boy" he comes running. 
Thank you so much for allowing us to adopt Wilbur.  He loves to take pictures. 
Thanks again for everything,
Hope, Destiny and Kamryn
Wasabi
Wasabi (now Forrest), is doing great! He has become the perfect family dog--playful, affectionate, and loyal. The longer he has been with us, the happier he has become.
He is a particularly good fit for our family, as he has proven to be quite the athlete; his ability to jump and catch balls/toys in mid-air elicits much applause from people, which he obviously enjoys.
Here's a picture of Forrest chilling out with Jared as he kills time during a thunderstorm by catching up on some summer reading. One of our cats, who was terrified of Forrest at first, now follows him around constantly, hangs out, as well.
Thanks for all the wonderful work and generosity your organization provides.We couldn't be happier with our house's new addition, and have recommended your organization to many friends.
Cathy
Widget
She is beyond wonderful. Still won't cuddle with my husband who feeds her, walks her with me and adores her. She still barks at him and growls while backing away. It kills him because she all but cuddles under my skin, can't get close enough, full of kisses. But it's better she be shy than jump all over people, especially in a condo. Other dogs don't phase her, but she is skittish around children. Eating and playing with toys. Great chewer, but has done no damage. She is totally housebroken. I should only have such good bladder control. She sleeps on the floor next to me and hops in bed in the morning. I have not used the bathroom alone since she arrived.
She will NOT be coming back to the rescue organization. I can't believe she was there for even 5 minutes. She is a treasure.
Thank you! Thank you!
Carole
Wakona
Chesney is an amazing pup and we are so thankful for her. We have had her for a couple of weeks now and so far have seen multiple different personalities from her. She is sooooo sweet and wants to cuddle in one moment and the next is this feisty little pup thinking she owns the world. She is extremely friendly and loves all people but is very skittish around other dogs. We had our friends come over the other night with their dog who is pretty big. Chesney would run up to her and then run away and hide – she did this over and over again for about an hour and then very slowly she started getting pretty comfortable with the bigger dog. By the end of the night they were best friends and Chesney was acting as if she was the bigger dog and wasn't scared one bit! I am hoping this will be the beginning of her getting over her fear with other dogs. She is a blessing to our family and we couldn't be more in love. Thank you so much!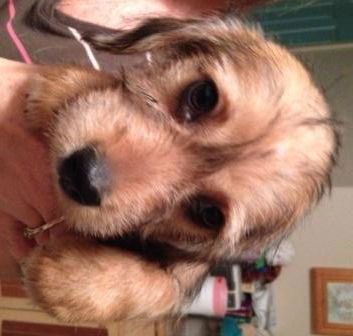 Wiggle

Hello! Thanks for the follow up! Wiggle who is now named Lady is doing very well!!! She comes to work with me at the horse barn everyday, and gets played with and loved by everyone!!! She almost never goes to the bathroom in the house! She has made lots of other doggy friends and comes pretty much everywhere with me. She rides in the car in the front seat, which she knows as 'her seat' and just curls up and sleeps. She doesn't typically bark at anything and is quite the perfect fit. Her and my cats get along surprisingly well! The big male cat and her chase each other around all the time. He tells her who's boss, while the little female cat just runs away when she chases her. Lady will is going to be headed to the vet in the next week to get her last shots taken care of, but otherwise we're in good health! She sleeps most of the day but when she does get some energy boy does she expend it fast by running around the yard as fast as she can with her little tail between her legs!! :) I will try to find you on facebook to share some photos with you :) Thank you so much for letting me adopt this perfect little pup!!! She is much loved!! Thanks, Michele




Click a letter to find an animal or

view all

.


All images and content Copyright 2015, A Second Chance Puppies and Kittens Rescue, Inc.