Animal Success Stories
As an all volunteer foster-based rescue group, successful adoption stories are the only compensation we seek! Our Foster Caretakers, who spend weeks or months loving the animals in their care, always want to know how their "babies" are doing once they have found their forever homes. We hope that the adoption of a pet is not the end of a process but the beginning of a relationship between A Second Chance Puppies and Kittens Rescue and our adoptive families. If you've adopted a dog or cat from us, please share your story! Success Stories and pictures can be sent to adoptions@asecondchancerescue.org.
Click a letter to find an animal or
view all
.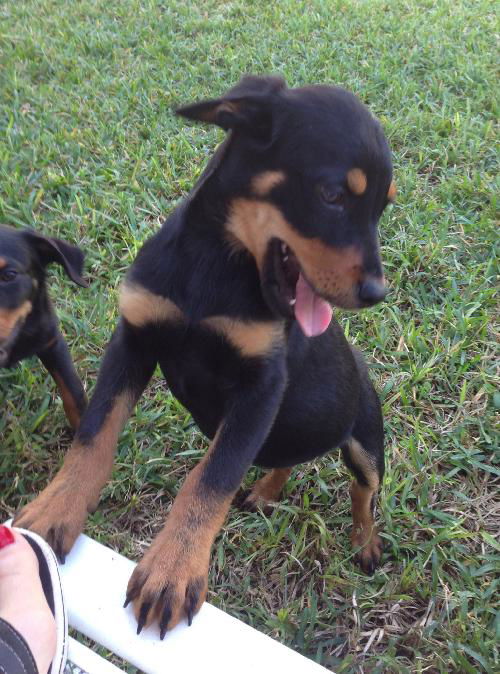 Ella
My success story, Anyone who has a pet and loses that pet after many years is totally devestated for a long time. I waited 4 months to start looking for a puppy to replace my kind and gentle Rottweiller, Kinston. As I was searching all the rescue sites I kept coming back to the "epups" at asecondchancepuppiesandkittens. The black and tan coloring of the pups were very similar to the Kingston and that is what initially drew me in. I filled out the application papers and then got a phone call one evening to come and look at them in Royal Palm Florida. My excitement was overwhelming and I could not wait to see them. Ella picked me by walking over to me and licking my hand. I am now the proud new Mommy of Lina, previously Ella then Emma, of a perfect puppy. I have had her a week and three days and she has already touched my heart and soul. She is very smart, very cute, and very playful!!! She is a big hit with my friends and neighbors and I am constantly stopped when I take her on her morning walk and when I visit the dog parks. I can't believe it but she was already housebroken and goes to the door when she wants out and can sit for a treat. I am forever grateful for the loving care she must have had at asecondchance and for her foster mother who must have trained her in her home. Our next step will be puppy kindergarten and I am sure she will learn quickly. I plan on sending a donation and would be happy to help if you need someone to make phone calls. Thanks so much. Love, Melva and Lina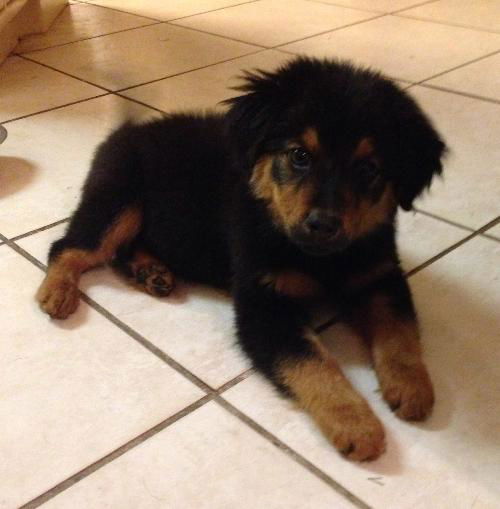 Echo
Hi Judy! Just wanted you (and our puppy's foster family) to know that Echo (now Maggie) is doing simply wonderful, and our Aussie, Miliani, has taken very well to her. Our first night home, Maggie and Miliani were already eating and playing together to well after midnight. On Sunday, we took the 'girls' shopping again, then off to the park to romp around for an hour. The late afternoon was spent walking and meeting all her new canine friends in the neighborhood. She was welcomed with open paws. Today is warm, so we plan on Maggie getting her first swimming lesson. She is already curious about the pool, and we bought her life vest this weekend to be extra careful. Thank you for introducing us to our forever family member - we are in love! Best, Carol Ann
Empress
I know it's been a while since we adopted Empress, but that doesn't mean that we can't share how she is doing!
Empress is an amazing dog and an amazing friend! We first were fostering her for a few weeks and then we officially adopted her on April 28th, 2012. Empress is definitely a momma's girl! She can not go five seconds without being around her momma. When we were fostering Empress we also had another dog named Diesel, but unfortunately we had to put him down because they found three tumors on his heart. When Diesel passed away Empress didn't know what to do with herself. She would walk around the house looking for him not knowing where he was. Eventually she knew that he was gone forever and that was that.
Empress is truly a goofball! When you throw one of her toys she will run and get it and she will slide into the wall because she is running so fast! She loves to sleep upstairs with us and she loves to drool when she goes for car rides. But overall Empress is an amazing, loving, caring dog and I don't know what I would do without her!
We appreciate everyone at A Second Chance Rescue and what you all do for these animals!
The Lambro Family
ET
First, I would like to thank you for all the wonderful work that your organization does. As an adoptive parent, the process was not without hurdles and I appreciate that. It might take a little longer to adopt through A Second Chance, but it is truly for the benefit of the animal as well as the human - so that we may form a lasting bond and find the perfect fit for each of us.
I fell in love with Apollo (formerly ET) the moment that I saw him at Petco. There were no ifs, ands, or buts about it - we would be together forever. When I saw him for the first time, he was playing with his brother. But, when I walked to the cage, he saw me, stopped, and sat down. I was instantly enamoured. As we took each other for a walk around the store, he showed what a baby he really was by bunching up in my arms and nuzzling my neck. I...was...a...goner. As I finished the paperwork, my boyfriend and his mother (because it is a family affair with us), picked out his harness, leash, and toys - with Apollo leading the way! Then, he went for his first car ride.
When we walked into his new home, the first thing he did was lay down in what is now known as "Bubba's Blanket" and has been our baby ever since. As we celebrate Apollo's 7th month birthday (he gets VERY excited about this) we reflect on what life was like before him - we can't even remember it. The saying is true, "Dog is a man's best friend." He is loved by everyone he encounters and we are so thankful that a chance meeting turned into a wonderful chapter of our lives filled with laughter and love.
I am so grateful to A Second Chance Rescue. Without it, I never would have met the love of my life and the piece of our family that was missing. Thank you again for everything that you do. You are a blessing.
The Clancy Family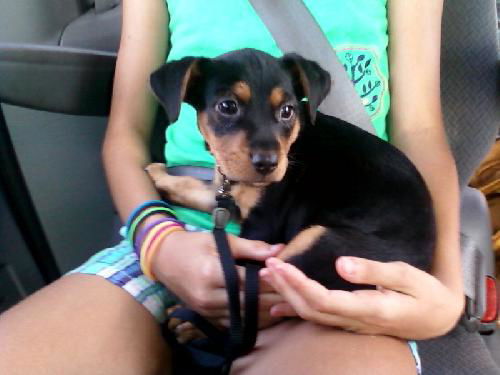 E-trade

E-trade is renamed FIGARO, he is doing awesome with the family. He is a very good dog with children, other people and other dogs. He likes to eat play and rest just like a perfect puppy. He brings lots of joy inside the family, he grows strong and fast and likes toys. Regards, Eric Dehant




Click a letter to find an animal or

view all

.


All images and content Copyright 2015, A Second Chance Puppies and Kittens Rescue, Inc.