Animal Success Stories
As an all volunteer foster-based rescue group, successful adoption stories are the only compensation we seek! Our Foster Caretakers, who spend weeks or months loving the animals in their care, always want to know how their "babies" are doing once they have found their forever homes. We hope that the adoption of a pet is not the end of a process but the beginning of a relationship between A Second Chance Puppies and Kittens Rescue and our adoptive families. If you've adopted a dog or cat from us, please share your story! Success Stories and pictures can be sent to adoptions@asecondchancerescue.org.
Click a letter to find an animal or
view all
.
DeeDee
Lillie, formerly known as Dee-Dee, is such a wonderful pup! She has adjusted so well to our home and family and just loves everyone to pieces. Right now, Lille Dog is 4 months old and weighs in at 26.8 pounds as of Wednesday!
She has quite the personality and picks things up very quickly. She enjoys showing off her tricks (shake, roll over, high-five, etc) to everyone she meets! This little pup loves everyone, dogs included however, she's not too fond of squirrels and tries to chase them up trees. We were curious to know exactly what she was and so we decided to do the Wisdom Panel dog DNA test and found out she's a Border Collie, Boxer, Weimaraner mix. It's neat because we see traits of all the dogs in our pup.
Lillie enjoys long playful walks on the golf course and swimming in the pool. She has made two dog friends and plans to make more now that she finally has her rabies shot! She brings so much happiness to our little family every day. We are so lucky to have found our Lillie Dog!

Thank you for our puppy!

Ryan, Ashley, & Lillie
Danny
Danny is known as Buddy in our home. We've had cats before but they were not as affectionate as Buddy. He is just simply a great addition to our family.
Karen
Darius
Darius recently celebrated his 2nd birthday. He has been such a great part of this family. Sometimes he acts like one of the kids…he even climbs up you and gives you hugs.
He's the best dog we've have ever had. At night he either sleeps in our baby girl's room or in the hallway between the kids' rooms. He and our 4 year old son are inseparable. He waits for him at the front door and chases him around the house when he gets home. He was very accepting to our new addition when she came home last October. We were a bit worried because he is such a loving and energetic dog but he is very gentle with her.
We are so happy we adopted him. He fits into our family just perfectly.
Krystina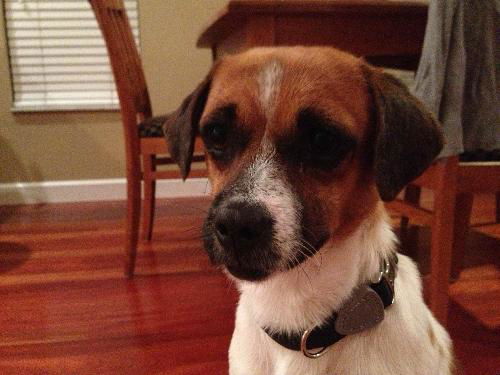 Dunder
Thank you so much!!! we just love Dunder and Mifflin, and so does Loki,(our 9 yr old pit bull). Loki is playing like when he was a puppy! They are all so funny to watch!!! Our friends keep coming over to ask if they can take Dunder and Mifflin for a walk too. We say no, but they can walk with us, after all its hard enough to share them with each other! They are so cool. it feels like they have been here for all their lives. Thank you for picking us to be their new pet peoples, we promise we will love them, protect them and care for them furever. Sincerely, Alison, Austin, Cameron and Aidan Clark P.S. we will post some pix soon
Detroit

Greetings Lisa,

Ripley has been a very sweet, very rambunctious boy. He is getting more handsome by the week! He is getting along famously with his older sister, Lyla who looks like a distant relative.

I live in Davie so we are making regular visits to Bark Park and Tree Tops Park. Ripley loves the yard and he is full of spunk just like you remember.

He is deeply loved by his mom and his dad and we will keep you posted as he grows into the stunning man that we know he will be.

All my best,

Anna




Click a letter to find an animal or

view all

.


All images and content Copyright 2015, A Second Chance Puppies and Kittens Rescue, Inc.