I WANT TO FOSTER TO ADOPT's Web Page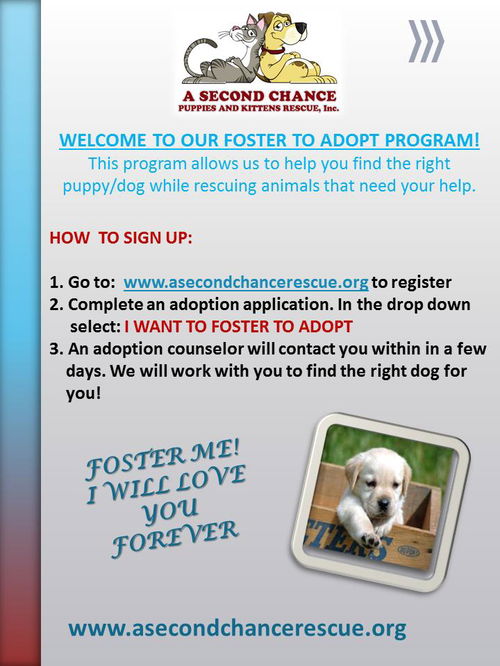 Won't you think about adopting me?
Name: I WANT TO FOSTER TO ADOPT
Rescue ID: FOSTER TO ADOPT
Species: Dog
Breed: Terrier
General Potential Size: Small
Current Age: 7 Years 4 Months (best estimate)
Activity Level: Moderately Active
Indoor or Outdoor: Indoor Only
Good with Cats: Yes
Good with Kids: Yes
Housetrained: Yes
Description:
WELCOME TO OUR FOSTER TO ADOPT PROGRAM!
This program allows us to help you find the right puppy/dog while rescuing animals that need your help.

HOW TO SIGN UP:
1. Go to: www.asecondchancerescue.org to register
2. Complete an adoption application. In the drop down
select: I WANT TO FOSTER TO ADOPT
3. An adoption counselor will contact you within in a few
days. We will work with you to find the right dog for
you!


All images and content Copyright 2015, A Second Chance Puppies and Kittens Rescue, Inc.